(1979 onwards)

This multi talented artist is a photographer, painter, film director, fashion designer, musician and the author of several entertaining blog diaries. He's certainly no slouch when it comes to producing creative works. Also he has established studios in New York and Tokyo, and continues to work for top class clients within the advertising and publishing worlds. There's just no stopping Rikki Kasso as he continues to work across several medias in order to get his vision out there. In 2008, Rikki Kasso became the "Photographer of the Year" at the UK Erotic Awards.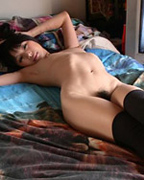 For this page, I've decided to focus on his project 'Tokyo Undressed', a concept series. It's regularly updated with erotic fotos of Japanese women (who may or may not be in various stages of undress) in a day to day reality coupled with his blog comments. As well as a selection of unrelated (or not - you decide) day to day shots of things that interest him. It's a style pioneered by Nobuyoshi Araki but one which Rikki Kasso confidently wears as his own.
Rikki Kasso is a man who knows Tokyo like no other, and his book entitled 'Tokyo' (publ. 2013) will let you see the wonders of the place from the women to the architecture and its everyday living, as only he can. This visual lyrical poem to the city is beauty at its best.
He has a number of sites, series and concepts, so well worth a visit or two. I hope you enjoy this taster, and decide to seek out more of his work.
For further information, go to the following web page: Rikki Kasso.
Knowledge is never a waste.
Online: Dec 2006 (updated 2017)